Free Workshop Announced! Learn Instructional Shifts in Literacy to Meet New State Standards
Meeting the New State Standards
Depth of Knowledge Instructional Shifts in Literacy
with Performance Tasks & Technology
Participants will experience instructional shifts in literacy to meet the new state standards and will leave with an actual plan to implement in their classrooms.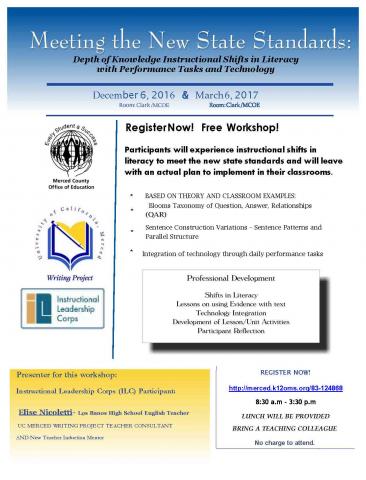 This free professional development workshop has two sessions. Session information will be based on theory and classroom examples:
Blooms Taxonomy of Question, Answer, Relationships (QAR)

Sentence Construction Variations – Sentence Patterns and Parallel Structure

Integration of technology through daily performance tasks
Session 1 - December 6th, 2016 | 8:30am-3:30pm
Session 2 - March 6th, 2017 | 8:30am-3:30pm
Professional Development will focus on:
Shifts in Literacy
Lessons on using evidence with texts
Technology Integration
Development of Lession/Unit Activities
Participation Reflection
Please come join us! It's FREE! Lunch will be provided. Bring a friend!
http://merced.k12oms.org/83-124868